Explore the Iron Range, Minnesota for an unforgettable getaway
By Emily Hadberg,nature-loving blogger
History in the Making

Call me a nerd, but when I travel I like to learn along the way. Great scenery, food and recreation are important, of course, but I'm fascinated by the stories of a place.
Who are the people that live here? What is the history of this land? Why is this area special? I especially like to learn about a destination's role in American history.
I was intrigued by northern Minnesota's woods and water, but learning that this region has been mining iron ore for more than 100 years gave me pause. How does mining fit in with deep forests and even deeper lakes? I was about to find out on two wheels.
The Range on Two Wheels
I'm a cyclist—not hard core, just a regular active gal who likes to do some biking—and I wanted to incorporate some paved trail riding into my trip. A few clicks on my keyboard led me to the Mesabi Trail. It's 75 miles of paved trail that wind right through the heart of Minnesota mining country known as the Mesabi Iron Range.
I quickly found that bikes can be rented in the small town of Biwabik, home to an acclaimed golf and ski resort, Giants Ridge. A shuttle service based at the resort would drop me off/pick me up wherever and whenever I want. The service's kind owner Chris Johnson even recommended itineraries complete with places to eat and stay. With this kind of help, this trip was going to be a walk—or a ride—in the park!
Mesabi is Magic
As I explored the Mesabi Trail website (a three-day Wheel Pass is only $5), I learned where this rather odd word, "Mesabi" comes from. It has to do with a Native American legend about a giant, named Mesabi, who ruled the northern lands, gathering and hiding its treasures, and not allowing any human to enter. At the end of his days, he laid upon the earth, covering his collection of valuables, and became part of the land. Since then, the people of the region have enjoyed Mesabi's wealth: lakes, forests, wildlife and even the iron ore that has been mined in this area for more than 100 years. With that magical story on my mind, I planned my route.
I began my journey with a relaxing stay at Mitchell Tappan Carriage House on the west end of the Mesabi, in the region's largest small town, Hibbing. 
I pedaled two miles to the Hull Rust Mahoning Mine View, a sweeping overlook of the canyon-like mine where two-story trucks tool around like giant Tonka toys. The mines of this area provided the raw material for the steel used to win both the world wars, and build 80% of the bridges and buildings in this country during the first half of the 1900s. Whoa.
After more than 100 years in operation, this mine presents an incredible sight—one that had me worried the landscape is more industrial than serene. I shouldn't have been concerned. After a stroll through the nearby Greyhound Bus Origin Museum, housing a virtual treasure trove of artifacts chronicling the life of the world's best-known bus company, I hit the trail and was quickly surrounded by trees as I wound my way eastward.
Into and Out of the Woods
Aspen, birch and a variety of evergreen trees line the seven miles of Mesabi Trail between Hibbing and my next destination, Minnesota Discovery Center in Chisholm.
I spotted whitetail deer bounding into the woods near a creek crossing. Shortly after, I was compelled to pull over and enjoy the view of a secluded lake. Pam informed me before I left that this is actually a "mine lake," former minelands now filled with glacial springwater and surrounded by trees.
Continuing on my ride, I soon arrived at Minnesota Discovery Center, "The Museum of the Iron Range." I explored exhibits dedicated to Native American heritage, as well as to the immigrant story of those who came to the region in the early 1900s. I was delighted to take a ride on a vintage electric trolley to a former mining community and explore the historic buildings and mining equipment there.
Around lunchtime, I rode into Chisholm with a growling tummy. Good thing Valentini's Supper Club was waiting with homemade pasta and sugo. Along with a refreshing iced tea, it was just what I needed.
The next leg of my trip was about 20 miles, and took me through the small towns of Buhl and Kinney, right to the Holiday Inn Express & Suites in Mountain Iron (now it is a Comfort Inn) , where my car was waiting. Chris (of the shuttle service) would pick up the rental bike and I'd take some time to relax.
Queen City of the North
I headed into the nearby city of Virginia and stopped at the Heritage Museum, where the admission was free, but I felt the exhibits were worth a donation on my part.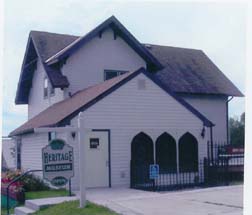 Artifacts and images combined to illuminate the town's storied past, particularly in logging, while a new exhibit highlighted "The Women of the Iron Range." The knowledgeable docent and I spent a pleasant hour chatting and indulging in our shared love of history. Just a few blocks away, I peeked into Irma's Finland House, a Scandinavian gift store inspired by the region's Finnish heritage. From there, it was a short drive to Natural Harvest Food Co-op on the edge of the small Silver Lake, where I made a note to stop back for picnic items tomorrow.
On the recommendations of everyone from the shuttle service provider to the hotel front desk, I stopped into Canelake's Candies, an old-fashioned candy store on Virginia's main street, where I sampled "hot air," a dark chocolate-covered confection that's crispy, light and sweet on the inside. I followed that up with coffee at the friendly and funky Shop Coffee House. Next, I was off to the US Hockey Hall of Fame Museum.
Hockeytown, USA
Eveleth, Minnesota, embraces hockey and the sport's rich tradition in this region with the Hockey Hall of Fame Museum. You can explore professional exhibits, listen to game recordings, track the speed of your slapshot, and view the names of inductees. On Eveleth's main drag, I snapped a selfie by the nation's largest hockey stick.
After I'd had my fill of hockey, I hopped over to the unassuming Wandering Pines restaurant, where I was told I could find a local specialty, porketta sandwich, made of pork shredded from a highly seasoned roast. Think fennel and oregano with plenty of other spices thrown in. The sandwich, served with sweet potato fries and coleslaw, was delicious.
More to Explore
My Mesabi vacation was far from over. Day two started with a fresh pastry and coffee from Kunnari's Kitchen and Farm Market in Virginia, then on to Giants Ridge, a golf and ski resort with kayak rentals and multiple scenic lakes. I would pack a picnic lunch and climb the hiking trails on the back side of the ski mountain to a scenic peak, and finish my day with a massage at the Laurentian Spa onsite, before heading to Green Gate Guest Houses for my overnight in the luxury "barn home," one of three gorgeous buildings lovingly refurbished by owner Shawn Callahan. A glass of wine by the outdoor fire pit was a treat before I dropped off to sleep in a cozy room under the stars of Magical Mesabi.
With easy access to the north shore of Lake Superior via the Superior National Forest Scenic Byway, or Duluth via Hwy 53, and just three hours north of Minneapolis, the Mesabi Iron Range offered a great combination of history, mystery and classic outdoor recreation. With no shortage of trails, great places to eat, and interesting places to stay, "Mesabi Magic" will be with me for a while!
To plan your own trip, visit ironrange.org or call 800-777-8497 for great ideas on where to stay and what to do!