When my husband, Jeff, retired from the Army at age 54, I knew the road ahead would be challenging. What I didn't know was that literal roads would end up making our relationship stronger than ever.
When Jeff left his Army career, he was determined to keep busy in the garage and workshop of our Minneapolis, Minnesota home. Working on classic cars, building furniture, tinkering. This didn't last.
He took up fishing. He gave up fishing.
He golfed, but that only works six months of the year.
Meanwhile, I was still working full time as a nurse, and he was driving me crazy.
Then one evening he came home from the Maple Grove VFW and said he had bought a bike.
I thought, "That's odd, but good for him. It will be good exercise."
Then he started talking about the trips we'd take (he had his eye on some routes "up north") and the places we'd go.
I protested "Whoa, whoa. It's fine if you want to bike around the state, but I'm not sure I'm ready to give up my weekends to pedal across Minnesota!"
He laughed.
Turned out my loving husband had just purchased a Harley Davidson Road King.
Our lives were about to change.
Becoming a Biker Mama
Jeff immediately started motorcycle safety classes. He bought leathers. He bought bike accessories. He spent a small fortune, but he was smiling and excited for the first time in a long time.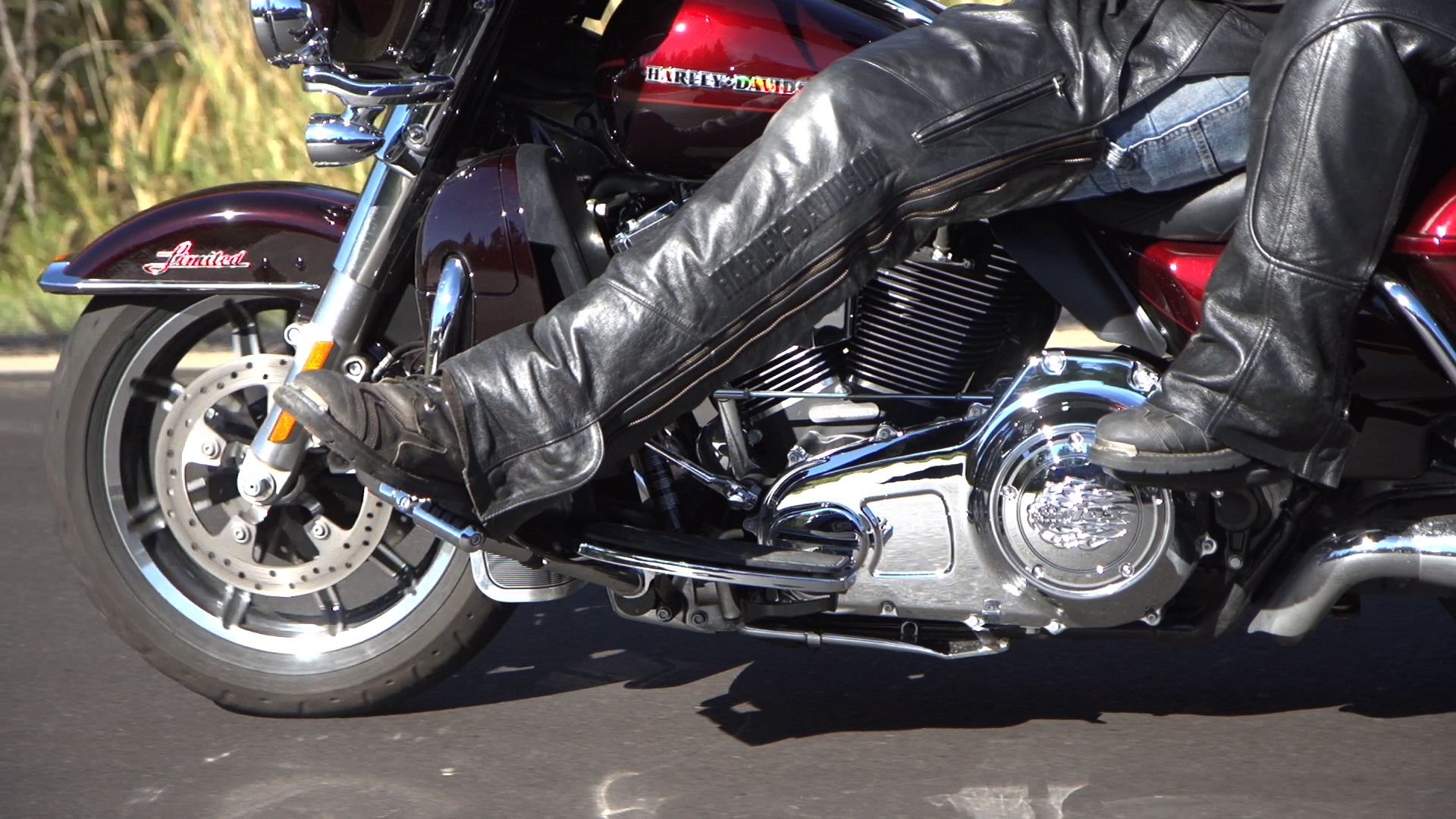 He started taking small road trips, and even though I worried about him on the busy freeways, I knew he was happy with his new hobby.
Then he invited me to go along.
And while I can't say I loved it, I didn't hate it. I was neutral, until he came up with a plan to ride for the weekend.
Magical Mesabi Makes Me Love Motorcycling
When my husband came to me with his idea to visit the Mesabi Iron Range for a long weekend on the motorcycle, I was skeptical. But when I found out how much planning he had done, requesting maps from the Iron Range Tourism Bureau  and checking out lodging specials in that beautiful area of northern Minnesota, I was hooked on the idea.
It didn't hurt that the weather was turning cooler, and I knew we'd be in for some spectacular fall colors along the way.
The Road Trip: Day 1
We left on a Friday morning and took our time getting there, taking I-35 to Hwy 53 on the Mesabi Iron Range. It was only a 3.5-hour ride, and with a couple stops along the way, I was comfortable as could be.
A big Bob Dylan fan, Jeff wanted to make Hibbing our first stop. Dylan grew up there, and Jeff wanted to drive by the musician's childhood home, Our second stop was Hibbing High School, where Bob Dylan was kicked off the stage by the principal during a talent contest. Our tour guide  did an amazing job leading us through the school, an incredible building that's listed on the National Register of Historic Places and boasts crystal chandeliers, imported marble floors, and valuable murals throughout.  Fans of architecture (and Bob Dylan!) will love this stop.
While in Hibbing, we made our way to Hull Rust Mine View, and incredible overlook of Hibbing Taconite, an active iron mine that has been producing ore for more than 125 years.
I must admit, this wouldn't have been my top pick of places to visit, at least not until I had been there. The amazing landscape was impressive on many levels, and the friendly volunteers at the visitor center were full of information and stories.
By now, we'd eaten up most of the afternoon, and it was time to grab a bite. We stopped at Valentini's Supper Club, an Italian place just five miles from Hibbing, where the rigatoni with meatballs was delish! From there, we headed to the Holiday Inn Express and Suites in Mountain Iron, where we could park our motorcycle under a covered awning, and they even provided a kickstand puck for free!
The Road King (and Queen): Day 2
The next day we hit the road early (I'll tell you, a good long soak in the hotel hot tub the night before felt great!), and followed the
recommendation of the Mesabi Ride Guide for a 155-mile loop around the region. From Virginia we headed west on Hwy 135, passing through the small towns of Gilbert, Biwabik, Aurora and Hoyt Lakes, before joining Forest Highway 11/the Superior National Forest Scenic Byway. Not far outside of Hoyt Lakes, we stopped at Skibo Vista, a former fire tower lookout with an amazing view of the forest and fall colors galore.
From there, we continued on the byway until it met Highway 2, which leads deep into the Superior National Forest (no place to stop and get gas here!), reaching the curvy and fun-to-ride  Hwy 1 outside of Ely well before noon. We made sure to visit the International Wolf Center, a fantastic museum where we saw exhibits and live wolves, before breaking for lunch at a restaurant on Ely's busy main street.
We followed Hwy 169 east out of Ely, and stopped at Soudan Underground Mine State Park for a 90-minute tour ¼-mile underground. Jeff was fascinated by this tour, led by a wonderful guide who seemed to know everything there is to know about the state's last underground mine, now open weekends after Labor Day into October.
Just outside of Soudan, we hopped on Hwy 135 in Tower, taking this gently winding, pine tree-lined route back Aurora and Eveleth, which we heard was the birthplace of Minnesota hockey. As a Minnesota Wild fan, Jeff wanted to see the US Hockey Hall of Fame Museum, open Friday-Sunday after Labor Day. Even though I don't follow hockey, this museum, a mecca of all things hockey, impressed me!
Jeff back to the hotel to freshen up, and we headed back to Eveleth for dinner and drinks at BoomTown Woodfire Grill. I recommend the prime rib!
The Adventure Continues: Day 3
On Sunday, we took the Ride Guide's "Mines and Pines" tour up Hwy 5 through McCarthy Beach State Park and the Sturgeon River State Forest. Lunch was in Virginia at a great restaurant and market run by a local farming family called Kunnari's Kitchen (order the soup!). From there we followed the Superior National Forest Scenic Byway again, this time all the way to Lake Superior.
The awesome view of the lake was thrilling. We stopped at Split Rock Lighthouse in Two Harbors for a tour, and then found our way back to Biwabik and Giants Ridge Recreation Area where we stayed onsite at the resort Villas where we could relax in a condo-style lodging with a  kitchen, fireplace and hot tub. The lakeside view was wonderful, and the Caribbean-style restaurant, The Whistling Bird in nearby Gilbert, was amazing!
A glass of wine in the hot tub on the deck of our Villa, under the stars, was a romantic way to end the day. The hour or so we took the following morning to walk the paved Mesabi Trail across the Embarrass River was a great way to counteract all that "seat time" from the past two days!
With two great golf courses  on site, plus bicycles and kayaks to rent, and trails to hike, we could have easily stayed another day, but it was time to head for home.
We departed early in the afternoon, one of us extremely proud of himself and his new found trip-planning abilities, and the other one a converted fan of motorcycle travel!
Ready for some adventure? Get more information on magical Mesabi motorcycle rides, or call 800-777-8497.