The Iron Range region of northeast Minnesota includes 12 communities from Hibbing in the west to Hoyt Lakes in the east. With historic sites, scenic views and trails to explore in each town, a day trip might not be enough time! But these "must-sees" will please the history buff and the nature lover in you, and make for great multi-day group tours. 
Begin the adventure at Hull-Rust Mineview in Hibbing, where a sweeping view overlooks an active iron ore mine, one of six in the region. See the massive mining equipment – shovels, "haul trucks" and more – working to extract and move rock from the pit to the crusher. Friendly and helpful volunteers can share stories and provide information about the mining process to the curious learner.
Hours 9-5 daily during the season – no admission fee.
Allow 30 to 45 minutes. Outhouse only
Enjoy a tour of Hibbing with a step-on guide available through Iron Range Tourism Bureau, then explore the famed Hibbing High School, built in 1923 at a cost of $4 million. Global resources were tapped to install marble, crystal and stonework embellishments throughout the building, and artists commissioned to create murals.
A guide is a must.
Allow 2 hours for city tour and high school.
Travel five miles to Minnesota Discovery Center, Minnesota's museum of the Iron Range, where you'll enjoy lunch and more. Explore indoor and outdoor exhibits that tell the story of the land, the people and the mines of the region. Make time for a crash course in genealogy research at the onsite library and research center, with free access to online genealogy websites and helpful research librarians. Tour the archives, see a film, watch a weaving or cooking demonstration – there are many add-on options at the museum. Be sure to take a trolley ride to a mining ghost town.
A tour guide is a must here.
Allow 3 hours minimum with lunch.
Gift store onsite.
As a group or an option while at the Discovery Center, arrange for a bus tour of Hibbing Taconite, the working mine visible from Hull-Rust Mineview. This is typically a 1.5-hour tour departing from Minnesota Discovery Center (travel time to mine: about 10 minutes) but can be customized.
En route to your accommodations at The Lodge or Villas at Giants Ridge in Biwabik, visit Irma's Finland House, a treasured gift store specializing in Scandinavian items. After a little shopping and check-in, stroll the grounds of Giants Ridge Recreation Area or enjoy a beverage on the patio.
Dinner at The Lodge can be accompanied or followed by entertainment or a presentation, arranged through Iron Range Tourism Bureau.
Begin Day Two with breakfast at The Lodge at Giants Ridge, then travel to Eveleth for an hour of hockey history immersion! Understand the contributions of this small community to hockey lore at the US Hockey Hall of Fame Museum.
From there, travel to Tower, a 30-mile drive ending at the Soudan Underground Mine State Park. You'll have the option of tours a half-mile below the earth's surface at this historic site, the first mine on the Vermilion Iron Range. One tour takes you through mined areas in an ore cart running on rails! The other is a tour of a high energy lab deep underground. Explore buildings and trails above ground before you depart for Fortune Bay Resort Casino. Group rates and gift stores available at both locations.
Visit the Heritage Museum to learn more about the customs, history and legends of the Bois Forte Ojibwe before enjoying an afternoon of gaming followed by dinner at the casino restaurant. For those who prefer to stay outdoors, canoe and paddle boat rentals are available for exploring Lake Vermilion. Return to Giants Ridge via highway 135 and pass through "the nation's cold spot," Embarrass.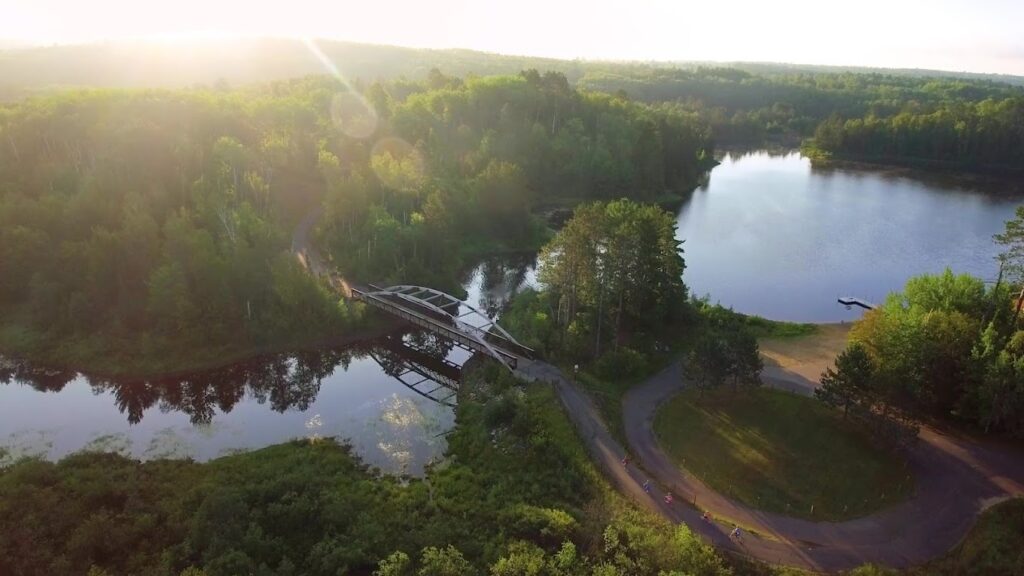 On your final day, make time to fully enjoy the outdoors! Onsite bicycle rentals make it easy to explore the 100-mile paved Mesabi Trail that winds through the property. Or just stroll along the trail past two lakes and over a river. Hiking trails are also located at Giants Ridge along with paddle board rentals (arrange for lessons!), and two world-class golf courses. Lunch at the Wacootah Grill onsite before your departure to the North Shore of Lake Superior via Superior National Forest Scenic Byway (watch for wildlife!).
An optional activity such as lecture, demonstration or nature walk could be offered. Contact us today to arrange your mulit-day group tours. As us about welcome receptions, free step-on guides and more.