Editor's Note: One week ago, riders in the Bike MS event cruised into the communities of Biwabik and Chisholm. These cyclists may not have set out to discover The Range, but they did! Participants were thrilled with their experiences here. Read on to find out more about this great event and what riders thought.
By Ceasar Ortega
Arrival in Chisholm
It was a big project getting everything ready for the return of Bike MS, a fundraising group that works to build funds to help in the fight against MS. They arrived at The Minnesota Museum of Mining on July 18th and came in slowly as they had a roughly 80 mile bike ride from Proctor; and it was an absolutely humid day so for the most part everyone seemed pretty exhausted by the time they got to Chisholm, but they were still ready to discover The Range.
I had the opportunity to shuttle many of them around with their luggage to where they wanted to set up camp on the museum grounds. Those who were returning visitors were happy to be back on The Range. New visitors were absolutely delighted by the amount of effort volunteers showed to make them feel welcome!
For me, a life-long Minnesotan, I've always liked the mystique of The Iron Range. You know, it's hard working people that scratched out their existence in a pretty significant way. Created the incredible industry that happens around here, and the communities that surround it. So there's a special spot in my heart when I think about those people who made this area"

-Bryan
Meeting the Riders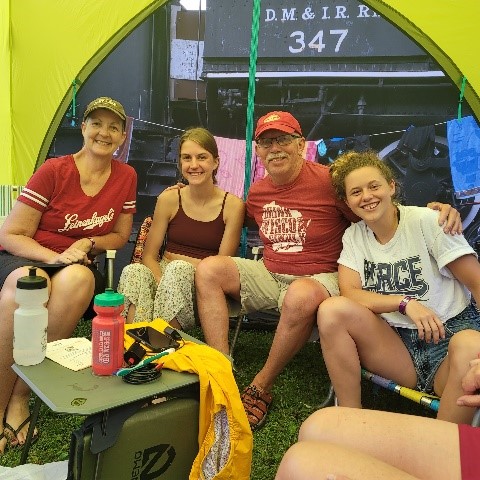 Food trucks, a massage therapist, water coolers, a beer tent, an information booth, and charging stations were set up around the designated campground for the group to enjoy before they would ride again in the morning. On their first night spent on The Range in Chisholm they explored the downtown area and enjoyed live music. They also discovered some of our history at the Minnesota Museum of Mining and The Minnesota Discovery Center.
After everyone was able to get settled I had the opportunity to speak with a few of the Bike MS riders about their thoughts on The Range. I also asked them what they thought of the local history and the Mesabi Trail. Everyone was happy to let me hang out with them. After two days of assisting in the event I was more than ready to sit down and talk.
The first group I spoke with sat down with me in their huge tent and told me about their favorite parts of The Range. Several of them were returning visitors including Bryan (in photo above), his step-daughter Kate, and his wife, Jan who he met during a Bike MS ride in 2004! They all were incredibly friendly, enjoying their time in Chisholm and had some amazing things to say about The Range.
We like [the hills on the trails]…it's a break from what we are used to…most of us are road bikers, and so we practice and train on county roads…[The trail] is very well taken care of, and we like the fact that they put asphalt down and they're in great shape, really great shape

-Mick
There was also Mick & Mariene Mcartney (shown, left) who actually met in the Slovenian bar [TNT DOM] in Chisholm. Understandably, they hold it very close to their heart. They were having a great time and, as long time riders, shared their thoughts with me about The Mesabi Trail. They were also impressed with how connected the trails were. This makes it easy to go from city to city with ease. And the sights, especially the rolling hills and trees which are abundant along the trail were a point of great interest for Sophie, Kate's friend, who tagged along for the family excursion across Minnesota.
Alcolades for Chisholm and Minnesota Discovery Center
I also spoke with Alicia Engstrom, another Bike MS rider via phone after her visit to the Minnesota Discovery Center. A new rider who hadn't been able to discover The Range before I asked her about her thoughts.
Chisholm was amazing. They accommodated us any way they could. They went above and beyond. It was amazing staying at the museum grounds and having all of that to look at. The historical society were very willing to share the stories of the iron range. The businesses were helpful. Minnesota Discovery Center was amazing, very worth the $12 charge to get in. I certainly do recommend people visiting. In fact, I'll be back with my family, too. I have a six year-old who is into trains and I think he would be into mining equipment. I mean, there are countless things that would bring us back.

-Alicia
Event is fun for volunteers, too!
I was happy to be a part of this event and to see everyone enjoying the area firsthand, like I did when I first moved up here. There is something entrancing about the area that can make you feel free. Whether it's the forests and hills that fill the horizon or the welcoming nature of residents on The Range it is felt by many who visit our region and it's always a pleasure to share that experience with visitors!
Thank you Bike MS for riding The Range and we hope your trail takes you back to us again soon! -Ceasar
Editor's Note: To read about the Bike MS experience in Biwabik (image at top an aerial view), click here.