When it comes to outdoor adventure, the Range delivers! And with every adventure you take, we serve it up with a heaping helping of history.
Mountain Biking Adventure:
Between The Redhead MTB Park and Giants Ridge Biking Trails there is plenty of outdoor adventure to be had this summer! Even if you're a beginner or if you are interested but have never hit a trail in your life, don't worry! The window of opportunity is wide open on getting yourself moving with special classes and biking events offered at Giants Ridge. New riders will find incredibly knowledgeable staff who will help you get equipped with everything you need. Start your outdoor adventures as a mountain biker!
For those unfamiliar with the sport it is actually fairly challenging. Not only that, it often allows the rider quite a bit of freedom depending on how much they want to do. A simple trail can easily become a roaring rollercoaster ride that will launch you over rocky outcroppings. You'll be back onto the trail, then hopping down mountainsides. You decide! That's something that makes mountain biking an incredible past-time. As an outdoor adventure, you should try it at least once.
Mine Pit Kayaking/Canoeing is crazy cool:
It is the land of 10,000 lakes after all, and in the heat of summer nothing is better than getting your feet a little wet in an outdoor adventure! There are many boat landings and lakes to choose from through The Range. Check out mine pit lake at Redhead MTB Park and the lakes at Giants Ridge. Don't have a kayak or canoe? You can always rent one at Redhead Mountain Bike Park. Or, if you want to hit the water elsewhere you can always contact Bikes & Brewhaus who will bring you an inflatable kayak as well as a drink!
The Range has always been extremely dedicated to outdoor adventure. And with view of nature as good as ours, why let anyone miss out?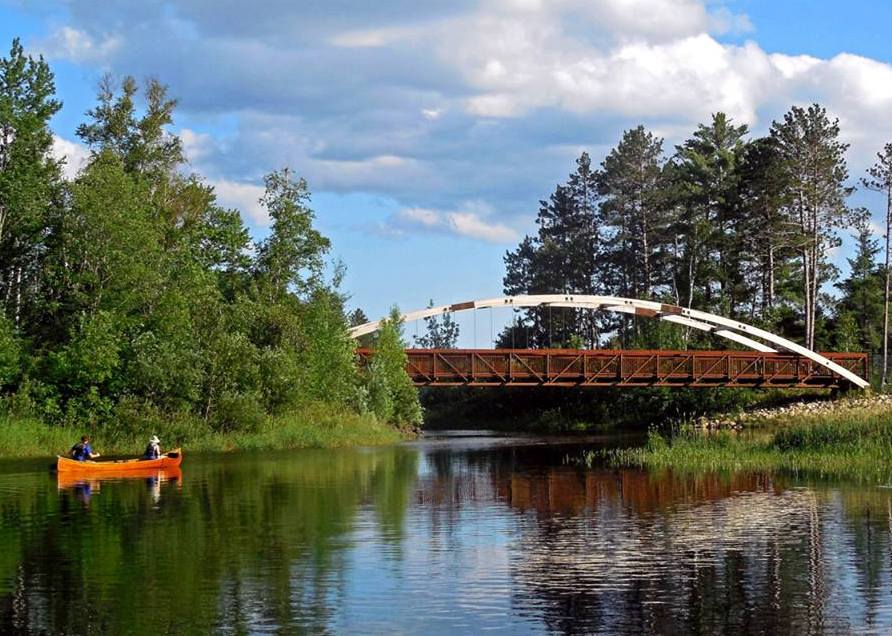 The Mesabi Trail is a one-of-a-kind experience :
If Mountain Biking isn't your flavor you can still feel of the wind rushing past you and to see nature up close. Just get your wheels on The Mesabi Trail. This paved biking trail which is over 135 miles long. It will stretch from the Mississippi River to the Boundary Waters Canoe Area Wilderness. It takes riders through wilderness, campgrounds, lakes, and mining pits. You'll find towns where you can explore even more. It's a picturesque outdoor adventure. The Mesabi Trail provides a feast for the eyes. It will certainly give you a unique point of view of the region!
The Mesabi Trail expected to be completed this year. Special additions are cropping up along the trail. Bruce Headframe Memorial Park in Chisholm is slotted to be ready in July! Bring your cameras and a water bottle for a trip you will hold onto forever.
Make sure to pick up your Mesabi Trail pass before your get going. If you need a ride back from wherever your ride takes you, Club Mesabi has a shuttle available for riders. Just call in advance and you'll be taken back to your home base.
Off Road Trails
One of our most popular attractions are our off highway vehicle trails. With our terrain being as hilly and rocky as it is, it is easy to see why. Clamber up tricky slopes with your OHV. You'll several trails dedicated throughout the region to crawl those Jeeps. ATVs and off-highway motorcycles will find a place here as well. If you are visiting from out of state you will need a trail permit. These can be purchased online or at one of several vendors who you can find at any town on The Range. There are quite a few OHV events that happen throughout the summer as well. It's a pretty big community and a fun one to be in if you're an avid off roader. It's even better when you're a novice too because nobody is better at showing new people the ropes than the experts!
Hidden History
The Range is much more than what you see on the surface, very much like the iron beneath our vast landscape that built the region into what it is today. The communities that lived here in the early days of it's founding were hard workers from various regions and their cultures have blended into something unique. That background is celebrated even to this day! You can see this for yourself at The Museum of Mining or the Minnesota Discovery Center in Chisholm, The Nelimark Homestead Museum & Gift Shop in Embarrass, The B'nai Heritage and Cultural Center in Virginia, or The Hibbing Historical Society in Hibbing (and much more).
When it comes to history on The Range there is quite a bit that might shock you, including our role in WWII, our geological history, as well as what people and corporations made their start here and how they made it big (Looking at you Pillsbury and Greyhound). Our region has had major impacts on the country and as a new resident of the region, I found to be incredibly interesting and it certainly highlighted many things that I wasn't previously aware of. Find out more for yourself, exploring the history is half the fun!
By Ceasar Ortega