Motoring Mesabi: Bring your Bachelor Party to the Range
The awesome golf on the Mesabi makes for a fun bachelor party, but did you ever think about hitting the trails in an ATV? We've got the state's largest ATV rec area in Gilbert – we call it The Park – and you can spend the weekend there, or add some side trips on our regional trails.
Need machines? Rent 'em!
Lossing's Power Sports rents side-by-sides. Get a hold of Derek and make your plans to ride! 
After your ride, it's time to relax
If you're a camping type of group, Sherwood Forest Campground in Gilbert offers great sites and a trail right to The Park. Plus, Gilbert kindly provides a liquor store, and restaurants including The Whistling Bird, Wandering Pines and two cafes, within walking distance from the campgrounds.
Lodging to Your Liking
If you'd rather stay in a hotel, there's a Super 8 in Eveleth with trail connection to The Park and BoomTown Restaurant right across the street. (There's also an ATV dealer within spittin' distance, in case you're in the market to buy or need repairs).  At nearby Giants Ridge, stay at The Lodge, The Villas, or The Residence, for a resort-style experience – including golf if you like – plus onsite dining at The Burnt Onion. Take a break from riding to try the new climbing wall at Giants Ridge.
Play on 4 Wheels, Go Home in 1 Piece
While you're here, we want you to have a blast – but we also want you to be safe. Wear a helmet. Don't drink and drive. Don't get crazy, you've got a wedding coming up! Check the rules before you decide.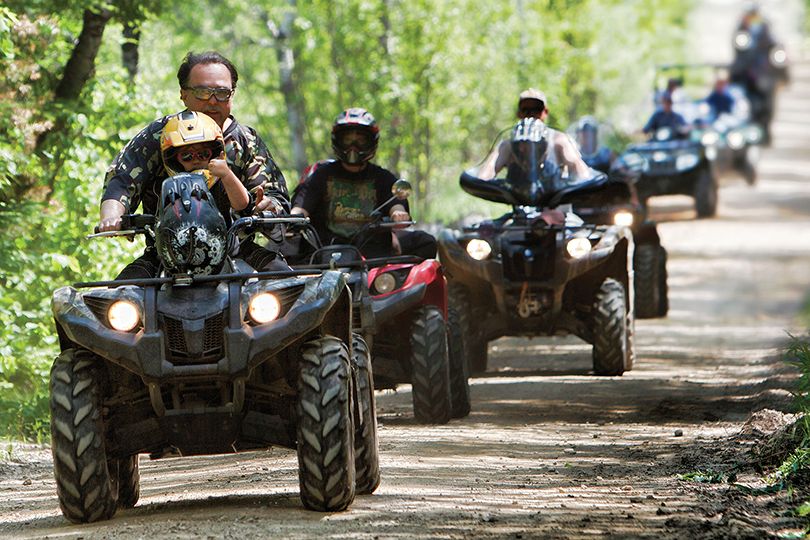 Got extra time? Hang out with us!
With the US Hockey Hall of Fame Museum (a sports fan must), mountain bike trails, mine tours, spa services and more, you might want to stay longer than you thought!
Questions? Just ask!
We're here to help. If you need a party bus, ideas for evening entertainment, or anything else, give us a call at 218-749-8161, request or download some maps, and get the guys (or gals – we offer equal opportunity fun!), and get up here!