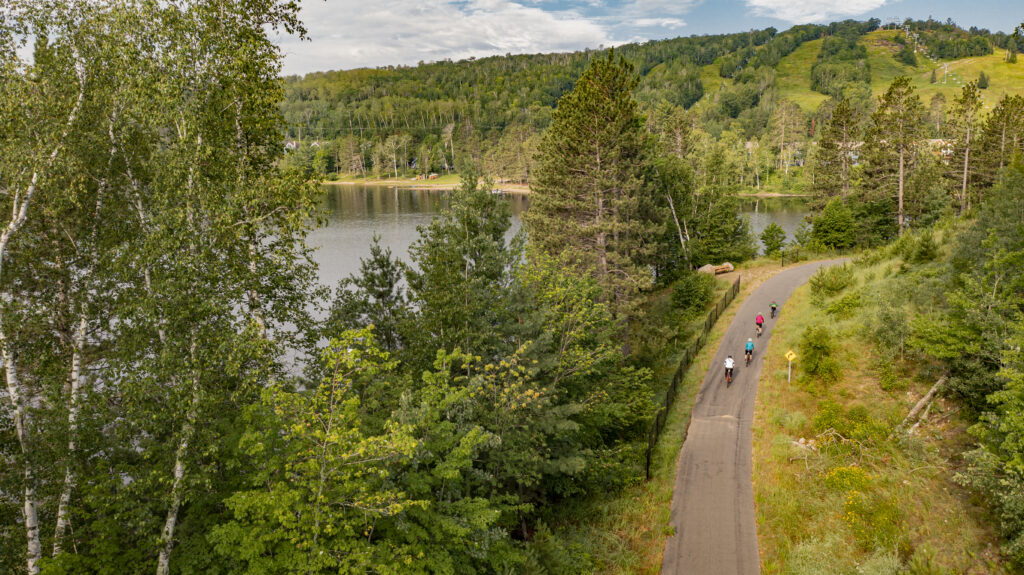 From the Mississippi River to the Boundary Waters, the Mesabi Trail is an epic landmark for bicyclists, hikers, and inline skaters alike.A large portion of the 115-mile long trail is paved, making it the perfect opportunity for an outing on a sunny day.
The Mesabi bike Trail is unique, however, in the vast amount of amenities and services that are available to make your trip through the wilderness both comfortable and convenient.
Shuttle Services
With such an extensive length of trail, many adventurers are lured by the appeal of biking to new and unfamiliar places – but daunted by the thought of an equally exhausting return journey.
If you fall under this category, you may be interested in the Mesabi Trail Shuttle Service.  The shuttle service is based out of Giants Ridge Golf Course in Aurora and services the Mesabi Trail from Grand Rapids to Aurora.
Whether it is an emergency or you would like the convenience of a ride home, simply call the service to arrange a ride to or from a specific point on the trail for up to 12 riders and bikes.
The cost breakdown per person is listed on the Mesabi Trail website.
Emergency Bicycle Mechanic Services
Experiencing a bicycle break-down in the middle of the Minnesota wilderness can be terrifying.  But have no fear – another portion of the Mesabi Trail shuttle services includes access to a certified bicycle mechanic. Available during normal hours, you can call to receive an emergency pick up and bike repairs within the range of the shuttle service.
Of course, in a serious emergency requiring a medical team or the police, please call 911.
 Lodge to Lodge Trips
Every wondered what it would be like to bike your way through a Minnesota vacation?  Do it with ease by utilizing the Mesabi Trail's Lodge to Lodge trips.  Their great team will custom design the perfect getaway to suit your personality and style – a family trip, camping outing, or a romantic trip through the Iron Range.
We will walk you through picking the right lodging on the Iron Range, organize shuttles for your luggage and necessities, pack box lunches along the trail ride, and provide a final shuttle service to return you and your bicycles to your vehicle when your trip has been completed.
All you have to do is get on your bike and start pedaling – enjoying life in northern Minnesota.
Excited to begin?
Join us for the Great River Energy Mesabi Trail™ Tour
The first Saturday in August, bicyclists off all ages and athletic abilities will join together for this full day event.  With four separate starting points, you can choose your distance – from a leisurely 11 mile ride to a grueling 72 mile journey. At the finish line, bicyclists will be treated to great music, food, and a beautifully designed t-shirt.
Bicycles can be transported to the starting point of your choice starting on the Friday before Tour Day.  If you are a rider and would like a ride as well, please meet at the finish line on Saturday morning (transportation: free).
To learn more about this and other great events, please visit the Events page on the Mesabi Trail website.